Lexus of Henderson Tire Service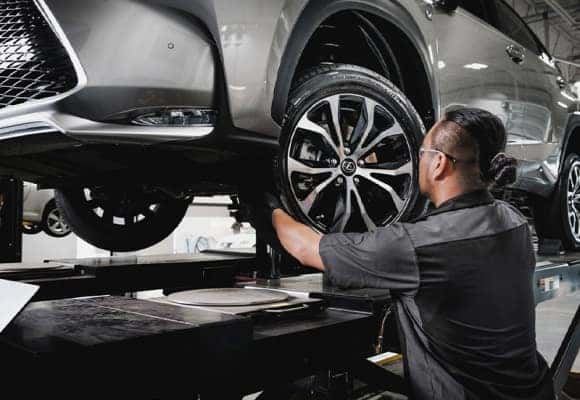 People require check-ups with their doctors to remain healthy and so do your tires. It would be nice to say you only need to  just buy one set that will last for the life of your Lexus vehicle, but that is not the way things work. Tires are one part of your vehicle that will need to be replaced on a regular basis, every 25,000 to 50,000 miles. At Lexus of Henderson, we can help keep your tires healthy. 
Finding the Right Tire
Your tires should fit your wheels like a glove and the tires designed specifically for your Lexus are always going to be the best fit. No matter what type of tire you are looking for, whether it is an all-weather model or something to match your new set of rims, we will assist you in finding it. We stock all the major brands, including Dunlop, Michelin, Bridgestone, and Yokohama.
Tire Inspections
The depth of the tread on your tires is of the utmost importance, as it determines the longevity of your tires but also your safety on the road. Tires with little to no tread remaining will lack in performance as well as safety on the road, especially in wet or slippery road conditions. As the tread begins to diminish on your tires, you become closer to the end of your tires' life. 
Keeping track of your tire pressure is also incredibly important. An underinflated tire can be quite dangerous as your tire can quickly lose traction, even on dry roads. A tire that has too much air in it has a higher potential for hydroplaning as rain washes over the road. A Lexus specific service technician can assist with both of these aspects of routine maintenance during a tire inspection.
Tire Services
Keeping your wheels balanced and in proper alignment ensures that they will last longer and prevent damage to your wheels and suspension. Should you notice a vibration when driving, be sure to schedule an appointment to have your tires safety-checked. 
Routine tire rotations also makes your tires last longer, by ensuring that the tires are wearing properly. A tire rotation will switch the configuration of your tires and make sure there are no vulnerabilities in your tires, as a dull spot is a prime location for a leak to develop, leading to a potential blowout. 
With our 24-month road hazard coverage, the tires you buy and have installed in our Lexus of Henderson Tire Service Center are protected from further road damage. Should you run over a nail or screw in a construction area, we will replace or repair the tire. Your Lexus is in good hands with our tire technicians.