Upgrade Your Connection With Apple CarPlay and Alexa in Your Lexus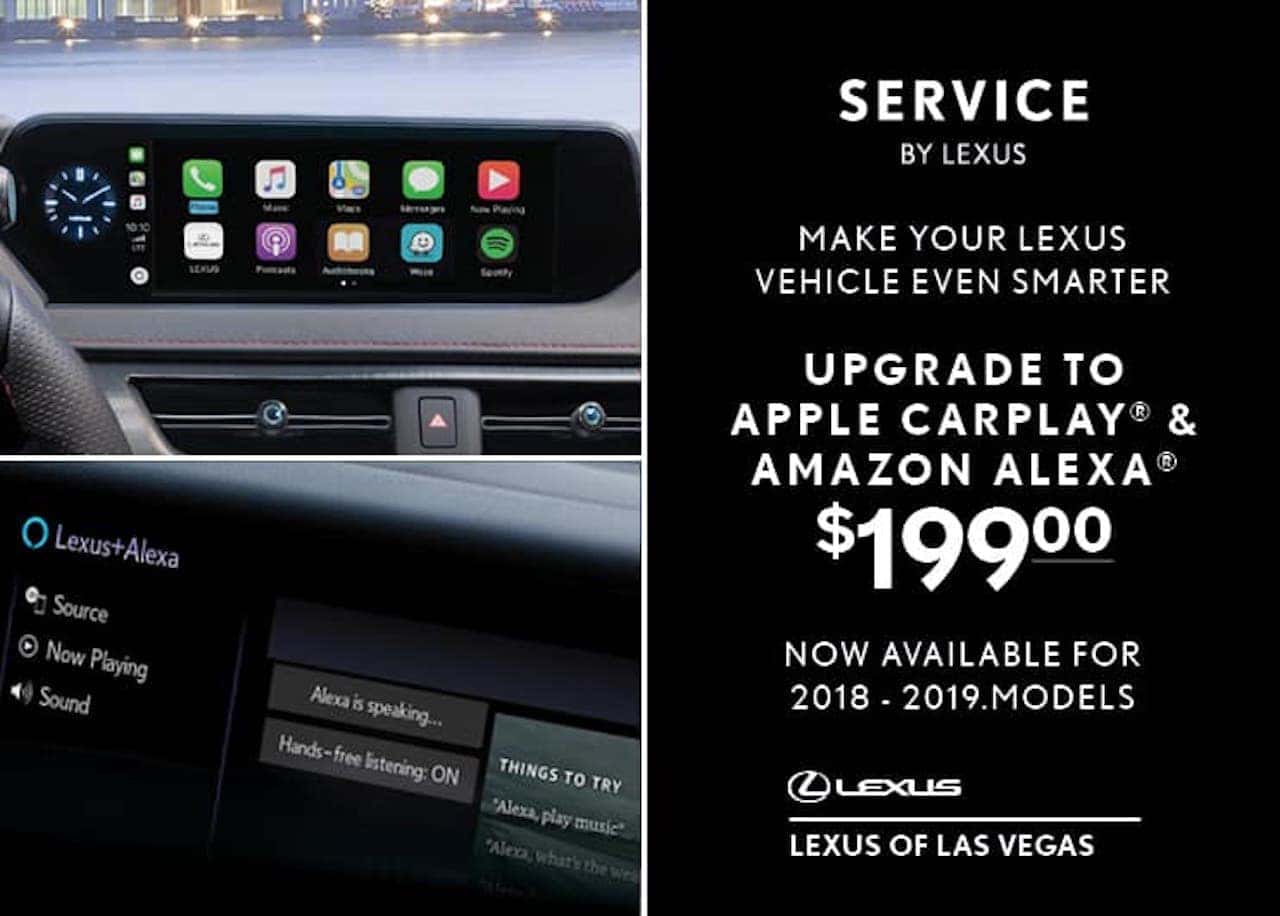 For the 2020 model year, more Lexus models are now equipped with smartphone connectivity. You can now connect with Apple CarPlay, along with Amazon Alexa, from your Lexus.
However, did you know that your 2018 and 2019 Lexus can get the same kind of connectivity?
Lexus of Henderson can assist you with that!
Our service department is now running a special where your 2018 or 2019 Lexus can upgrade your infotainment system with smartphone connectivity through Apple CarPlay and Amazon Alexa. It is a reprogramming add-on that enables your Lexus to use Apple CarPlay through your USB connection, along with having the added services of Alexa from your vehicle.
The upgrade is available for just $199.00.
All you need to make an appointment with our service department and print out the coupon for your smartphone upgrade. Lexus of Henderson can also come to your home or office and pick up your vehicle for the work to be done. Don't worry, we'll make sure we follow the CDC's guidelines ensuring that your vehicle is sanitized and to maintain social distancing – masks included – when we interact with you.
With making the upgrade, you can stay productive in your vehicle. You make sure that the lights are off at home, or to make that important phone call with your clients or the doctor. You can also bring your favorite music along with easier access to your songs and podcasts.
One thing to consider: Not a lot of 2018 model year luxury cars have an Alexa connection from your car. Imagine the envy your neighbors will have when you turn on the lights of your home when you pull up to the driveway.
If you need to stay connected in your 2018 or 2019 Lexus, contact us at Lexus of Henderson to get you ahead of the curve on the road. Our service department is ready to make your productive life easier!